Thinking of Olympic Games
The athletes from Hungary, Denmark, Germany and Argentina were the first in K2 Junior Men heats.

Russians Andrei Shmyrov and Viktor Gavrilenko came the fifth but this result is not loss, but tactic:
- If to talk about our result it is necessary to note these are just heats. The most important is to reach the final. Now we save our strength. We are not afraid this tactic may not play into the hands. Once again the place is not significant now. We will do our best in the semi-final to reach the decisive race. Our task is to gain the prizes at this World Championships. Surely we would like to win and to demonstrate our best skills. We do not forget about the Olympic Games, but in Tokyo. We would like to participate there. By the way before the Games in Rio it is talked about doping much. We do not know what is happening, why even "clean" athletes have been disqualified. The reasons are not announced. It is not true, we should fight against this attitude. Justice should be met. Surely guilty athletes should be disqualified but "clean" athletes should not suffer.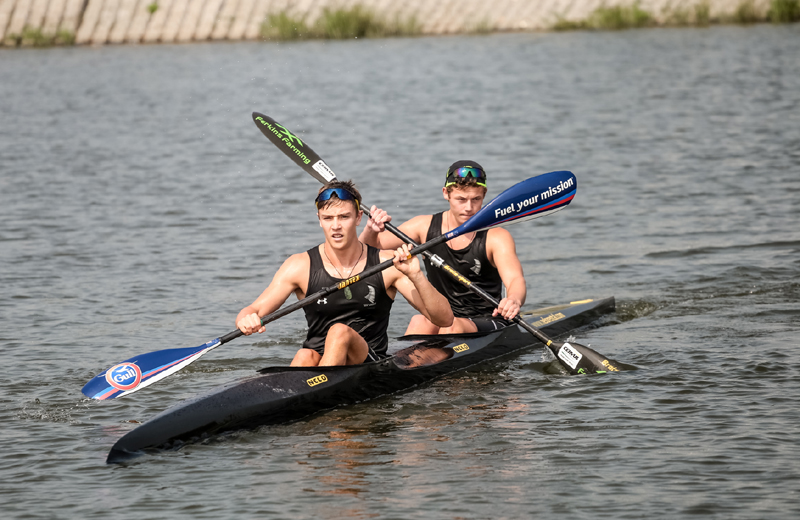 The athletes from New Zealand were the fifth in K2 Junior Men 1000 m heat. Ashton Reiser and Zach Ferkins estimated their performance by the end of the race:
— We came here from afar. In general we acclimatized ourselves quickly despite it is hot and humidly. We heard that someone regretted about additional winds which make some difficulties at the course. We are used to it and adapted easily. What about the tournament atmosphere and impressions about Minsk we are glad to be here and the competitions make us happy. By the way to reach better results we brought mascots with us and hang them on the neck. All our athletes have them. It is a mascot of Maori who are the indigenous people of New Zealand. We may say it is our sacred stone. Each of us has little mascots and we also have big one. It belongs to all. What are the expectations of our team at this Championships? We are here for the experiment because we are interested in Olympic medals mostly. This experience will be very useful for us. Besides, lots of exotic countries are presented at the Championships. Any team will win, and everything comes with the experience. It is fine that different countries like Namibia participate in the Championships.